An Bethesda Pest Control Team
You Can Depend On!
Locally Owned – Serving Virginia, Maryland & Washington D.C.
An Eco-Friendly Approach to Bethesda's Pest Control
Effective Pest Control
We've been protecting homes and families in Bethesda from unwanted pests since 2010. Our solutions are always effective, customized and eco-friendly. Highland technicians are expertly trained to get rid of pests in Bethesda in the most effective ways. All Highland technicians are certified and receive ongoing training to stay on top of the best pest control extermination methods.
Safe Pest Control Products
We carefully select products and methods that are effective against Bethesda's pests while being harmless to people and pets. We always apply materials targeted to the specific pest infestation and provide detailed service reports after the pest control treatment is complete so you can understand the work that was done.
A Customized Approach
At Highland, we understand that each of our Bethesda clients' needs are unique. We prioritize client communication so we can integrate our pest control solutions seamlessly into your life. We aim to work around your schedule, respect your living spaces, and maintain open lines of communication to keep you informed at every step.
Our Bethesda Team Delivers!
Let Our Pest Experts Help You!
Top Notch Communication
Our friendly and knowledgeable Bethesda pest experts take the time to thoroughly explain how our extermination services work and our office team is always a phone call or text away if you have questions. We are all professionals who genuinely care about helping solve your pest problem.
Guaranteed Results
When we say we take care of you like family, we mean it. Our Bethesda team has the tools and expertise to ensure that your pest services are done correctly and we guarantee or work. If ever you are not satisfied with our services, we will return to your home or business and diligently work to solve the problem as soon as possible. Learn more.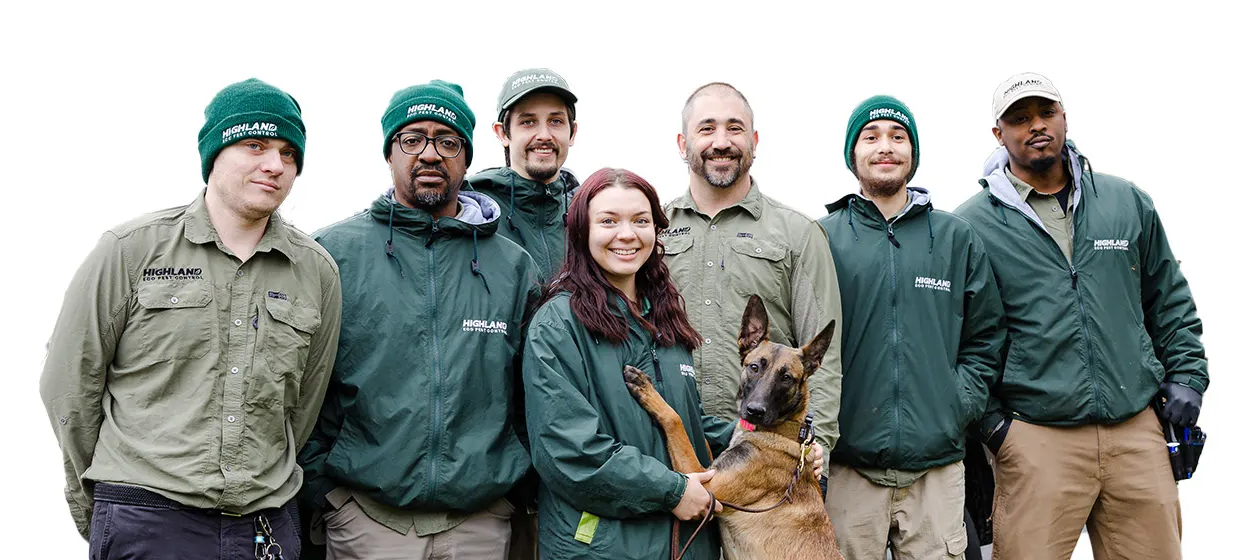 Bethesda's Top
Eco-Friendly Pest Solutions
Environmentally Responsible
At Highland Eco Pest Control we are a team of environmentally conscious exterminators. We value the our heath and the health of our clients in Bethesda.
We will opt for pest products that have the least impact on the earth, utilizing natural, organic and reduced risk alternatives.
You can be assured that we always use the lowest risk products that impact only the target pest.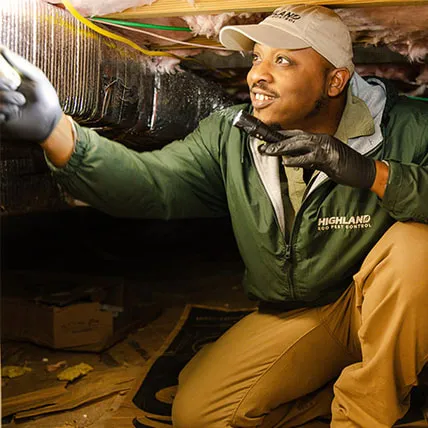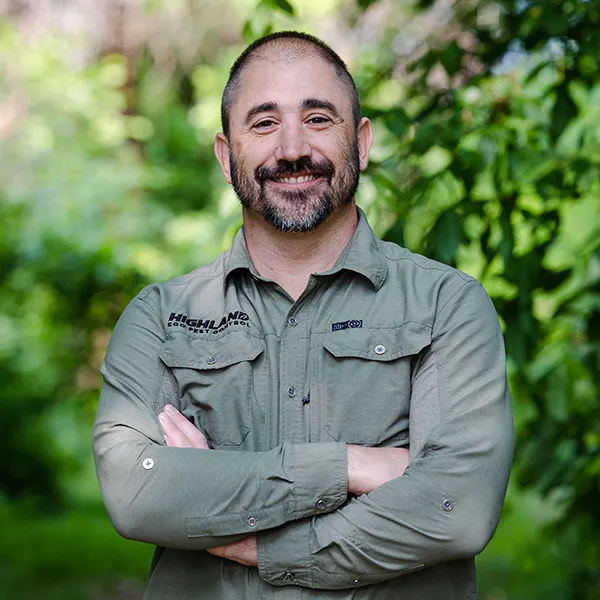 Bethesda's Trusted
Pest Remediation Experts.
A Pest Removal Company Focused On You!
Your neighbors prefer the pest experts at Highland Eco Pest Control for a reason. We have earned our reputation by working tirelessly to ensure your family & pets:
Are Protected With Environmentally Responsible Pest Services
Enjoy Interacting With Our Friendly Team
Live Comfortably In A Pest Free Home
Effective Pest Treatments
The demand for pest services is at an all time high. Our expert Bethesda team employ advanced and entomologically sound pest control treatments for ants, spiders, cockroaches, mosquitoes, rodents and bed bugs, ensuring your home feels like home again.
Eco Pest Control For Every Situation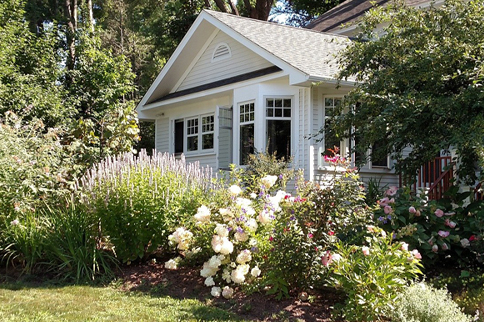 Residential Eco Pest Control
At Highland Eco Pest Control, we provide thorough pest removal services to ensure a bug-free home.
Beginning with a meticulous inspection, our skilled technicians identify any existing infestations.
Using targeted methods and eco-friendly products, we effectively eliminate pests like ants, spiders, roaches, and more. Our commitment extends to proactive pest control through regular maintenance plans tailored to your needs. With scheduled visits, preventive treatments, and prompt addressing of emerging issues, we keep your home pest-free year-round.
Our approach prioritizes the safety of your family and pets, utilizing environmentally responsible methods with minimal chemical usage.
Trust Highland Eco Pest Control for reliable and effective pest control, from inspection and elimination to preventive measures. Enjoy a bug-free home and peace of mind knowing that our team has you covered.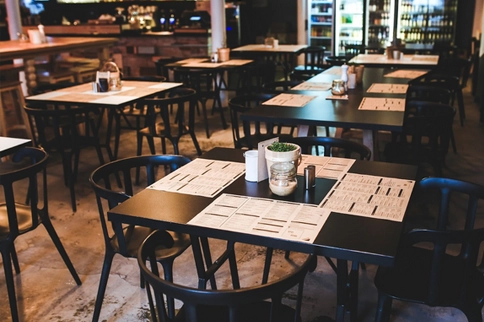 Commercial Eco Pest Control
Our company specializes in providing comprehensive commercial pest control services to a wide range of commercial establishments in the Virginia, Maryland & Washington D.C area.
Whether it's schools, warehouses, offices, or small companies, we are well-equipped to tackle pest problems in various business settings.
With years of experience under our belt, you can trust us to handle all your pest-related concerns with utmost professionalism and expertise.
Our dedicated team of experts is committed to delivering reliable solutions tailored to the unique needs of your commercial space.
We understand the impact that pests can have on the smooth operation of your business, and that's why we employ effective strategies and advanced techniques to ensure a pest-free environment.
By choosing us as your trusted partner, you can rest easy knowing that your commercial establishment is in capable hands.
Eco Defense Program
Year-Round Pest Protection
If you live in the Washington, DC region, you know that pest pressure is constant.
Our Eco Defense Program protects your home year-round by preventing seasonal invaders such as ants, crickets, spiders, rodents, cockroaches, and more.
Let your your home sweet home be pest-free all year.
Starting at $50/month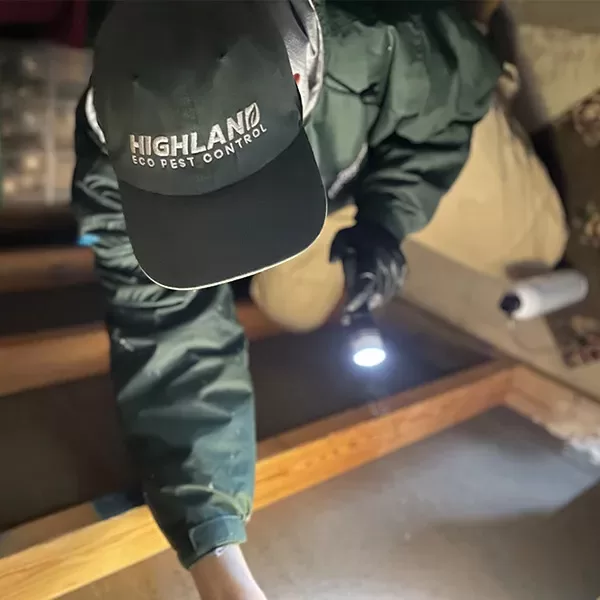 Hours of Operation
Monday: 8 AM–5 PM
Tuesday: 8 AM–5 PM
Wednesday: 8 AM–5 PM
Thursday: 8 AM–5 PM
Friday: 8 AM–5 PM
Saturday: Closed
Sunday: Closed